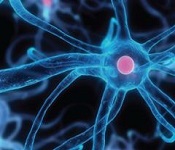 Biophotonics
is the study of optical processes in biological systems, both those that occur naturally and in bioengineered materials. A particularly important aspect of this field is imaging and sensing cells and tissue. This includes injecting fluorescent markers into a biological system to track cell dynamics and drug delivery. Biophotonics can be used to study
biological materials
or materials with properties similar to biological material, i.e., scattering material, on a microscopic or macroscopic scale. On the microscopic
scale
common applications include microscopy and optical coherence tomography. On the macroscopic scale, the light is diffuse and applications commonly deal with diffuse optical imaging and tomography (DOI and DOT).
Biomedical optics
focuses on the design and application of advanced optical techniques to solve pressing problems in medicine and biology. Biometric optics is truly a university-wide collaboration
occuring
between many departments,
centers
and researchers.
Clinical and Biomedical Spectroscopy and Imaging
Bio-Optics: Design and Application
Optical Molecular Probes, Imaging and Drug Delivery
Optical Trapping Applications
Tissue Optics, Laser-Tissue Interaction, and Tissue Engineering
Biomedical Spectroscopy, Microscopy, and Imaging
Medical Laser Applications and Laser-Tissue Interactions
Optical Coherence Tomography and Coherence Techniques
Biosensing and Bioimaging