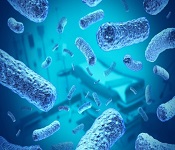 Bionanomaterials
are molecular materials composed partially or completely of biological molecules and resulting in molecular structures having a Nano-scale-dimension.
Magnetic nanomaterials
are the magnetic particles of nm size which are having unique magnetic properties. They are available in various forms such as dry powders, as surface functionalized powders or as stable dispersions in a variety of solvents, both aqueous and organic. Such
Bionanomaterials
may have potential applications as novel fibers, sensors, adhesives etc. Nano biomaterials account for 28.3% of the market share. Nano biomaterials are used for cancer treatment, regeneration, and polymeric ones act as gene delivery systems. Nanofiber scaffolds are those fibers which are having diameters less than 100 nm. Nano scaffolding is a process to regrow tissue and bone, also used in stem cell expansion.
Nano fiber scaffolds for stem cell expansion
For Dental/Cranio-maxillofacial Repair/Regeneration
Polymeric Nanoparticles for Gene Delivery
Carbon Nanotubes and Nanostructures
Environmental Health and Safety of Nanomaterials